I finally have a space in our house that is 100% mine. The Red Sox Man Cave.
It is only about 11 x 13 but it's all mine. (With much love and appreciation to my wife, of course.) We moved into the house in June and we wanted to build a wall almost as soon as we moved in but I didn't know how to. A friend from church did so we waited until he was able to do it.
The wall was complete around a month or more ago but all the finishing pieces are now finally in place.
So bask in the wonder that is The Red Sox Man Cave as you take this virtual tour.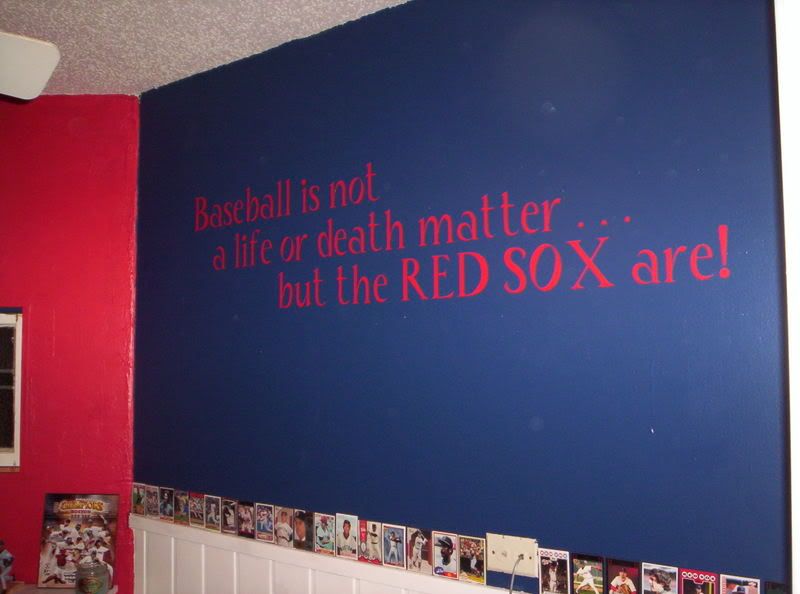 Pic #1
The quote on the wall was originally scribed by
Mike Barnicle
when he worked for the Boston Globe. It says:
Baseball is not
a life or death matter. . .
but the RED SOX are!
It was the finishing touch for the room.
The lettering came fr0m a new company,
Upper Case Living
. In case you or a spouse is looking for a good home-based busines, get in now while not many folks have heard about it.
Three of the five walls are lined with Red Sox baseball cards along the trim as a border. They are not common cards but rather a collection of my personal favorite Red Sox players. Some were not great players but they were great Red Sox players or i just liked something about their style.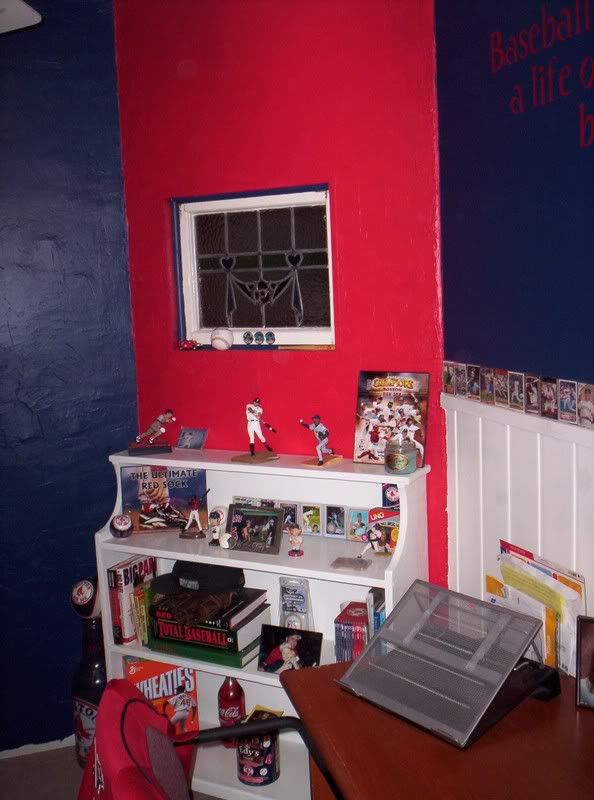 Pic #2
The red wall is part of the wall we put in and we put the anique stained glass and smokey window in it. From the other side, it's perfectly centered and the kitchen view is what's important, after all, in a Man Cave, who cares if it's centered?
HomeDepot
had carried MLB's offical colors as part of their Team Colors stuff but when we were finally ready to buy the paint, they had stopped carrying it.
We were ready to try and guess the colors but thanks to the wonders of computers the codes for the paints were still in the memory despite not "carrying them." So if you want your own Red Sox paint colors have HomeDepot paint man look up BRS Red & BRS Navy.
The Nomar jersey on the chair was a gift from a family from
our church in CT
. God Bless them.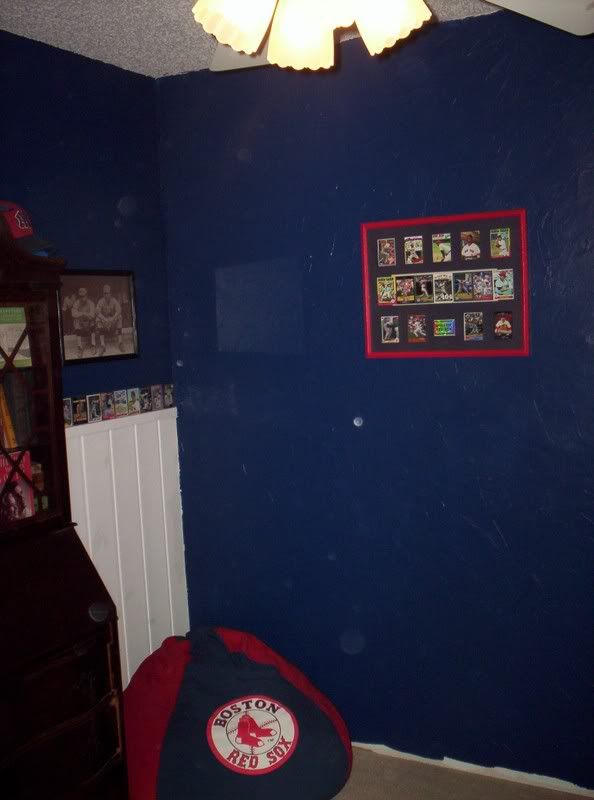 Pic #3
Here's the wall that we built. (man grunts) Hoping to eventually have a
RedSox Fathead
of
one type
or
another
on this wall but for now it's a baseball card montage of my favorite Red Sox players.
The
beanbag chair
was a gift for my daughter a few years ago and she has decided to let it rest in that corner. The black and white pic has Babe Ruth in it when he was a
great pitcher with the Red Sox
.
Pic #4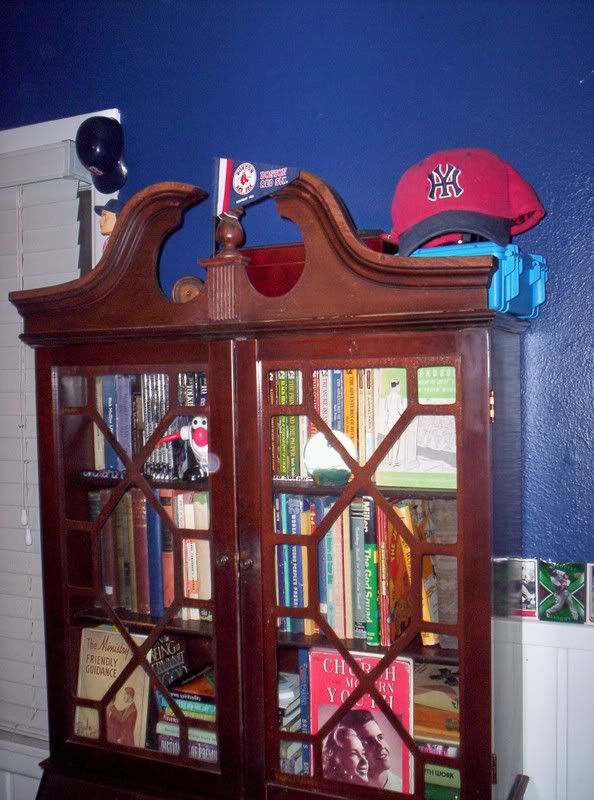 Yes, that is my
YankeesHater hat
. Let's just say after
a certain moment in 2003
, I was more about the hate for the Yankees than love for the Red Sox, for a while. Despite that animosity towards
the evil empire
, and believing that
God did hate the Fenway Faithful
, I never gave in fully towards the negativity and bought the
"Jesus Hates The Yankees"
t-shirt. Instead I believed it was up to us to
Battle Evil for the Good of the Game!
(Full Disclosure: I wanted to buy the t-shirt but by wife kept rambling something about "being a bad example for your children" or something, so I surrendered and instead used that picture as my desktop.)
Yes, that's my daughters
Red Sox Mr. Potato Head
in the secretary. For all my youth ministry friends who are still with me, check out the "
Church and Modern Youth
" published in
1963
from
Zondervan
in the bottom right corner. One more tidbit, I found a 2nd copy and gave it to
Marko
as a thank you (for letting me write
the book
) gift.
The mini-pennant was from
Build a Bear
and the
Ted Williams Bobblehead
was a Christmas gift, that is a collectable and no longer available.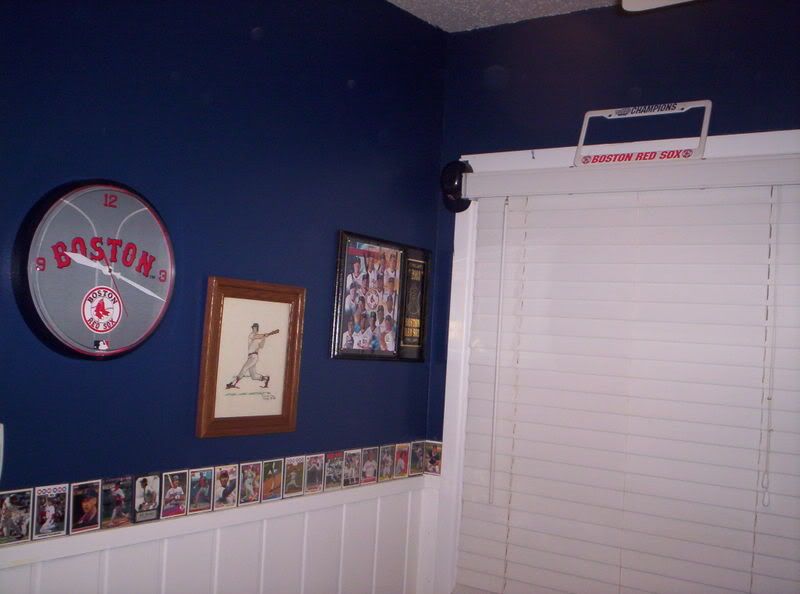 Pic #5
On top of the window is a 2004 World Champions License Plate frame.
The picture next to the window is a picture of the 2003 Red Sox.
The 2003 Red Sox were one of the better offensive teams in the history of baseball
. If you doubt that, think about this: the 2003 AL batting champion Bill Mueller batted 7th in the lineup with an avg of .326.
The center picture is a
cross-stitch
that my wife made for me before or right after we were engaged in 1990 while living in Montgomery, AL. When you come visit my house you'll see there is a red "B" on the batters helmet.
The
wall clock
was a Christmas gift, this past year.
Pic #6

The
2007 World Series Pillow
and the
Fenway Park Blanket
were also Christmas presents this year.
That particular
Wally the Green Monster
had to be ordered from the
Build-a-Bear Workshop in Boston
for my daughter.
You can't see it but the patch on the backpack came from a trip to Fenway when Tonja was 8.5 months pregnant with our oldest in 1999. She promised me if she went into labor during the game, we could name her Fenway, alas, we went with a family name.
That poster of Ted "The Greatest Hitter Who Ever Lived" Williams is from the Boston Globe's tribute edition when he died in 2002. It'll get framed one day but for now, push pins will do. (Multiple Man grunts!)

We were in Boston on July 22, 2002 and walked through Fenway for the Memorial Event.
It also happens to be the day of my youngest daughter's earliest memory, at 3 years and 3 months old. She remembers sitting in the visitors dugout of
Fenway Park
with me posing for a picture.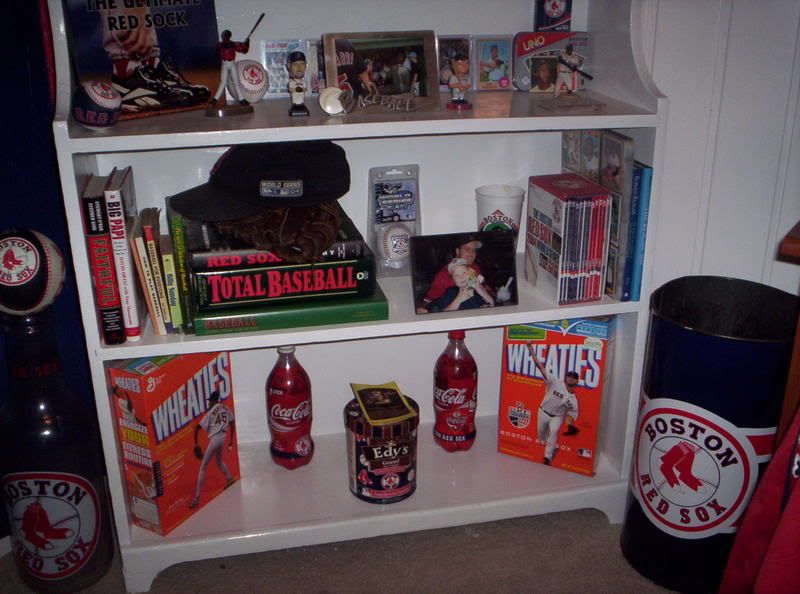 Pic #8
The trash can was a 25th birthday gift from the
youth group in Princeton, NJ
given to me at a surprise birthday party. The other side is a Red Sox Bottle that was full of popcorn topped by a Red Sox basketball you can win in
claw game
.
Bottom Shelf:
The Red Sox ice cream container has Red Sox baseball cards in it and on top of the container is a postcard of
Carl Yastrzemski's Hall of Fame Plaque
.
Two Wheaties boxes, one with
Josh Beckett
and the other with
Pedro Martinez
on the front.
Middle Shelf:
I bought that Red Sox hat with the 2004 World Series patch on it when I went to a party (with 3.2 million of my close Red Sox friends) known as the
2004 World Series Victory Parade.
Under the hat is my
Jim Rice
Signature Series Wilson Glove
from when I was a kid.
Boston Red Sox 2004 World Series Collector DVD Set retails for $129.99 is on sale for $79.99 but I got mine on sale for $34.99 when A&E (of all places) had a sale. I'm a Red Sox fanatic but i'm still cheap . . . er . . . frugal.
A 1989 Carl Yastrzemski Commerative plastic cup from Texaco. This was a gift from an elder at the church Princeton who was a HUGE Yankees fan. Despite that, we were friends and we actually went on a road trip to the Baseball Hall of Fame in Cooperstown, NY together before I left Princeton in 1997.
In the back is a commerative baseball from the 2004 World Series. Bought it in the Hartford Airport on clearance for $5. Books include Baseball is for Everyone by Joe Dimaggio (first printing from 1949 and it was my dad's), Big Papi, Faithful, Now I Can Die in Peace, Red Sox Century and a few others.
The picture is my youngest holding her Molly that was signed by Jerry Remy at a Texas Rangers game in 2006.
Top Shelf: Picture of the bloody sock, Pumpsie Green's 1960 card, (first black player to play for the Boston Red Sox, which was the last team in MLB to have black players, 12 years after Jackie Robinson broke the race barrier) 1968 Carl Yastrzemski, a Carl Yastrzemski game used bat card, Mo Vaugh Starting Line Up figure, David Ortiz figure, Red Sox Uno Cards, Wade Boggs rookie card, a couple of baseballs, dirt from Fenway and the picture of us sitting in the visitors dugout at Fenway.
Pic #9
Top of Bookcase:
A Nomar Garciaparra figure, a game worn jersey card of Nomah (It was in my daughter's Easter basket this year and she let's me display it there.), pic of the 2004 team, a Pedro Martinez figure, and my only McFarlane figure, Jason "The Captain" Varitek. Don't worry, the candle you see on the right corner is a part of the Mandle - The Candles for Real Men line and it's Glove Scented.

On the window seal is a Red Sox Hummer, three Topps Coins, a Red Sox pen in the shape of a bat, and a Kevin Millar autographed baseball.
Thanks for taking the tour.